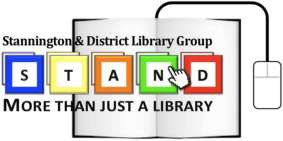 Stannington Library User's Guide
Stannington Library offers the following services for Library Members:
Book loans from Stannington Library's Yellow Sticker Collection - (click the link to search our Yellow Sticker catalogue)
Book loans from Sheffield Libraries stock - (click the link to see the Sheffield Libraries catalogue) - you can use the RFID machine to self check out and return Sheffield Library books if you prefer.
DVD loans from Sheffield Libraries stock - (click the link to see the Sheffield Libraries catalogue)
Reservation of any Sheffield Libraries stock held at Sheffield Central Library or at any branch or volunteer library.
Access to our Public Computers - we currently have three Adult Public Computers and two Children's Public Computer available. All our Public Computers have access to the Internet as well as Microsoft Office programs. The children's computers have a selection of educational programs installed.
In-house WiFi
Printing - you can print from our Public Computers - see costs below
Photocopying - we offer A4 and A3, Black & White or Colour, single-sided or double-sided - see costs below
NB: If you do not have a Sheffield Libraries Card, you can use our Public Computers as a GUEST for a small charge.
---
Photocopying & Printing Costs
A4 Black & White prints cost 10p, double-sided costs 20p
A4 Colour prints cost 50p, double-sided costs £1.00
A3 Black & White prints cost 20p, double-sided costs 40p
A3 Colour prints cost £1.00, double-sided costs £2.00
Please note that we do not have a card reader, so you will need to pay with cash.
---
Holds from Sheffield Libraries and Order & Collect
Please locate your ordered items on the Holds Shelf - it's located just inside the main library - on the right-hand side, then take your items to the front desk to be checked out.
Sheffield Library books can also be checked out and returned using the RFID machine.
Book returns
From 1st March 2022 we are no longer quarantining books, so please take your returned books to the counter (or use the RFID machine for Sheffield Libraries books) so they can be removed from your library account immediately.
Number of books that can be borrowed
You can borrow up to 15 books for a 3 week period.
---
Other services provided at Stannington Library include:
The sale of good quality second-hand JIGSAW PUZZLES, ADULT & CHILDREN'S BOOKS and DVDs in the foyer and within the library. There's a great selection for everyone.
Hearing Aid Batteries - your free NHS Hearing Aid replacement batteries are available from us.
Events - we aim to provide a variety of special events across the year.
Group meetings have mostly resumed. See our Clubs page for more information.
NB: All proceeds from sales go towards supporting Stannington Library.