Stannington Story Festival is on Saturday 9 September 2023
1pm to 4pm
We hope to see you there!
This is the programme for the day.
Download a pdf version of the programme here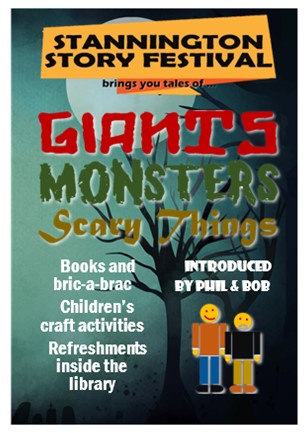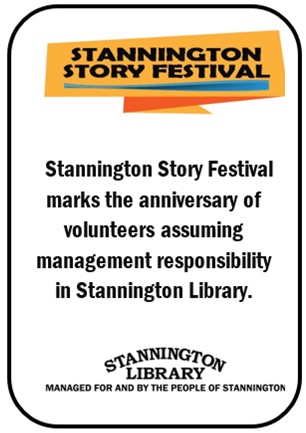 Support with voter Photo ID Applications
From 4 May 2023 you'll need to show photo ID when voting in person in some UK elections or referendums.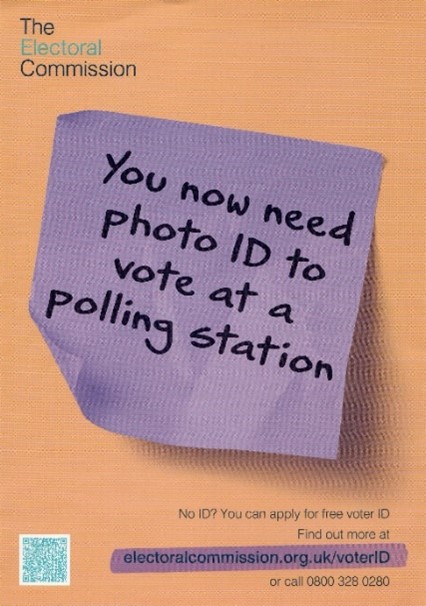 Do you have the relevant
Photo ID
to be able to vote?
If not, you will need to apply for a
Voter Authority Certificate
by 25 April
or register for a postal vote by 17 April.
Stannington Library can help with
online or paper applications
for a Voter Authority Certificate
– including taking photographs.
Leave your name and phone number with a volunteer in the library (either in person, by phone call or by email) and we will contact you asap to arrange an appointment.
NB: If you know someone who might need this support, please pass on the message!
0114 234 8732 [email protected]
---
Information about the new voting rules can be found on the GOV.UK website – this is the direct link: https://www.gov.uk/how-to-vote/photo-id-youll-need
You can register for a postal vote here: https://www.gov.uk/government/publications/apply-for-a-postal-vote .
---
You'll need one of the following types of photo ID to vote:
a UK or Northern Ireland photocard driving licence (full or provisional)
a driving licence issued by the EU, Norway, Iceland, Liechtenstein, the Isle of Man or any of the Channel Islands
a UK passport
a passport issued by the EU, Norway, Iceland, Liechtenstein or a Commonwealth country
a PASS card (National Proof of Age Standards Scheme)
a Blue Badge
a biometric residence permit (BRP)
a Defence Identity Card (MOD form 90)
a national identity card issued by the EU, Norway, Iceland or Liechtenstein
a Northern Ireland Electoral Identity Card
a Voter Authority Certificate
an Anonymous Elector's Document
You can also use one of the following travel passes as photo ID when you vote:
an Oyster 60+ card
a Freedom Pass
a Scottish National Entitlement Card (NEC)
a 60 and Over Welsh Concessionary Travel Card
a Disabled Person's Welsh Concessionary Travel Card
NB: The photo on your ID must look like you.
NB: You can still use your ID even if it has expired.
If you're voting as someone's proxy
You'll need to take your own ID when you go to vote on someone else's behalf. You do not need to take theirs.
If you've changed your name
The name on your ID must match your name on the electoral register. If it does not, you'll need to either:
register to vote again with your new details
take a document with you to vote that proves you've changed your name (for example, a marriage certificate)
Small differences do not matter. For example, if your ID says 'Jim Smith' instead of 'James Smith'.
---
Voter Authority Certificate
There is an online Voter Authority Certificate application form: https://www.gov.uk/apply-for-photo-id-voter-authority-certificate as well as a paper form.
You only need to apply for a Voter Authority Certificate if:
you do not have accepted photo ID
you no longer look like the photo on your ID
the name on your photo ID is different to your name on the electoral register
If the name on your photo ID is different, you can register to vote again or take a document with you to vote that proves that you have changed your name.
It's free to apply. You'll need:
a recent, digital photo of yourself
your National Insurance number
You can still apply if you do not have a National Insurance number. You'll need to provide other documents to prove your identity, for example a birth certificate, bank statement and utility bill.
---
On the Voter Authority application form it states:
You must supply a recent photo of your head and shoulders, with your face uncovered, as part of this application.
It's recommended to write your name, house number and postcode on the back of your photo.
Your photo must be:
• clear and in focus
• in colour
• against a plain, light-coloured background
• your true likeness, with no photoshop or filters
• at least 45 x 35 mm (height x width) in size, and no bigger than 297 x 210 mm (height x width)
• undamaged (e.g. not torn, creased, or marked)
In your photo you must:
• face forwards and look straight at the camera
• be alone, with no other objects or people
• have a plain expression
• have eyes open and visible, with no hair in front of them
• not wear sunglasses, but normal glasses are fine if you typically wear them
• not have a head covering (except for religious or medical reasons)
• not have 'red-eye', glare or shadows over your face
If you have ticked the box on page 3 to say you have a disability, the photo you supply:
• doesn't need to have a plain expression
• doesn't need to have your eyes open and visible
---
If you have not provided a date of birth and National Insurance number. You must provide either:
• copies of THREE documents from the lists below with at least one document being from list A (the other two can be from either list) or
• copies of FOUR documents from list B.
Please include copies of the documents when sending your application form (do not send
originals), or tick the box at the bottom to say you cannot provide the required documents.
Supporting documents list A:
Unless otherwise stated, these documents must be issued in the UK, Channel Islands,
or Isle of Man.
• Birth certificate
• Marriage or civil partnership certificate
• Adoption certificate
• Firearms certificate (granted under the Firearms Act 1968)
• Paper driving licence (not photocard)
• Record of a bail decision (issued in England or Wales)
• Driving licence with photo (not issued in UK, Channel Islands or Isle of Man) which must be valid for at least 12 months from the date the applicant entered the UK
Supporting documents list B:
• Bank or building society statement, or account confirmation letter
• Utility bill
• Credit card statement
• Benefits (or benefits entitlement) statement
• Mortgage statement
• P45 or P60 form
• Pension statement
• Council tax statement, or demand letter
The Stannington Gas and Water Crisis of 2022
12th December 2022
A burst water main has caused havoc with gas supplies in Stannington and the surrounding area. Because of it, December 2022 has seen unparalleled scenes in Stannington - homes without gas, homes without heat, homes without the wherewithal even to cook. Whilst work to put matters right continues, Stannington people are doing all they can to ward off the cold.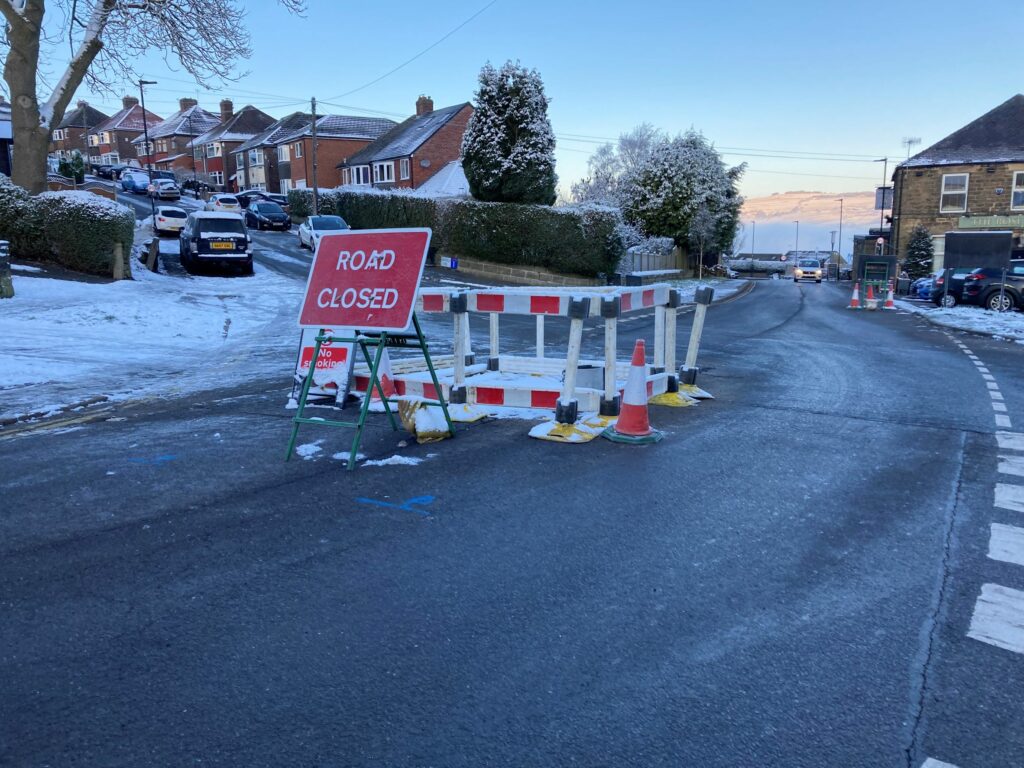 At Stannington Library, we want to create a record of the events of the last few days and the days still to come so that, in the future, people can read how the community coped in these testing times.
We want the full story of how people coped, how bad it felt, how good or otherwise was the information you received, how much help you received.
We want pictures, photographs, videos, even drawings and paintings if you or perhaps your children have them.
It's a story with real tension, real drama, and real examples of self-sacrifice. It's a story that Stannington Library wants to tell.
What emerges will depend on what we receive. It may simply become a dedicated page on the library's website. It may be enough to create a written record to be kept in the library. There may even be enough material for a printed booklet. We will not know until you send it.
Whatever you have, email it to [email protected] or, if you prefer, deliver it by hand to the library (Uppergate Road, S6 6BX). We can't promise to include everything, but we will try to produce something that honours the courage of everyone involved, something future generations refer to and learn how the people of 2022 dealt with a situation no-one ever expected.
Thank you.
Stannington Library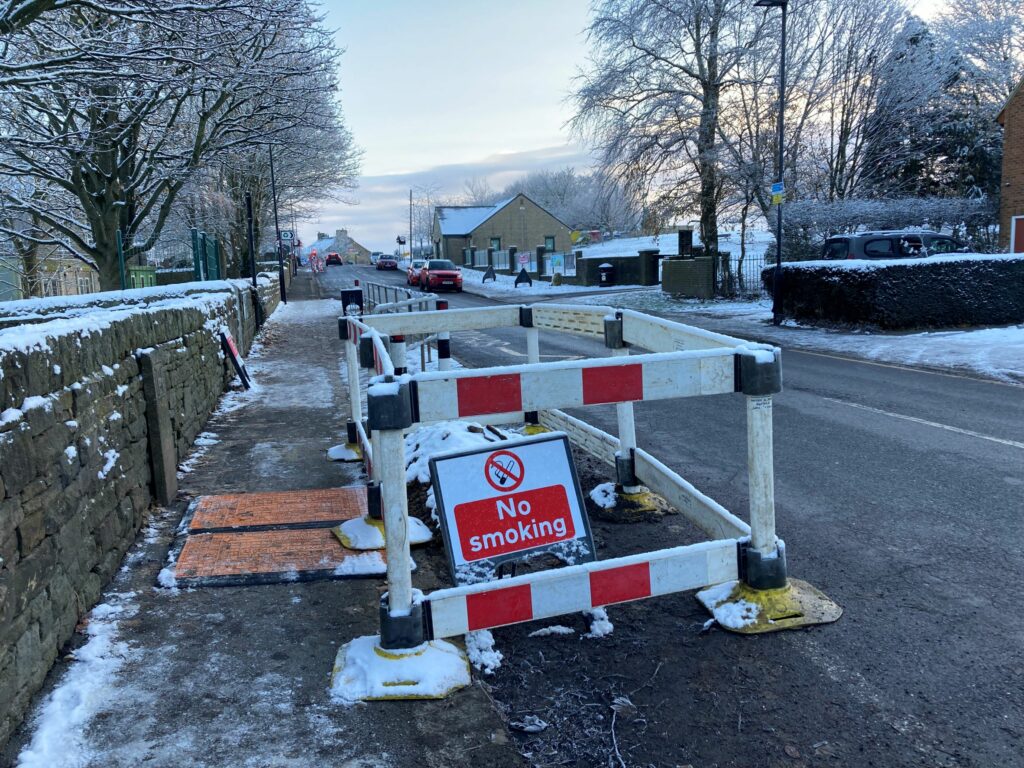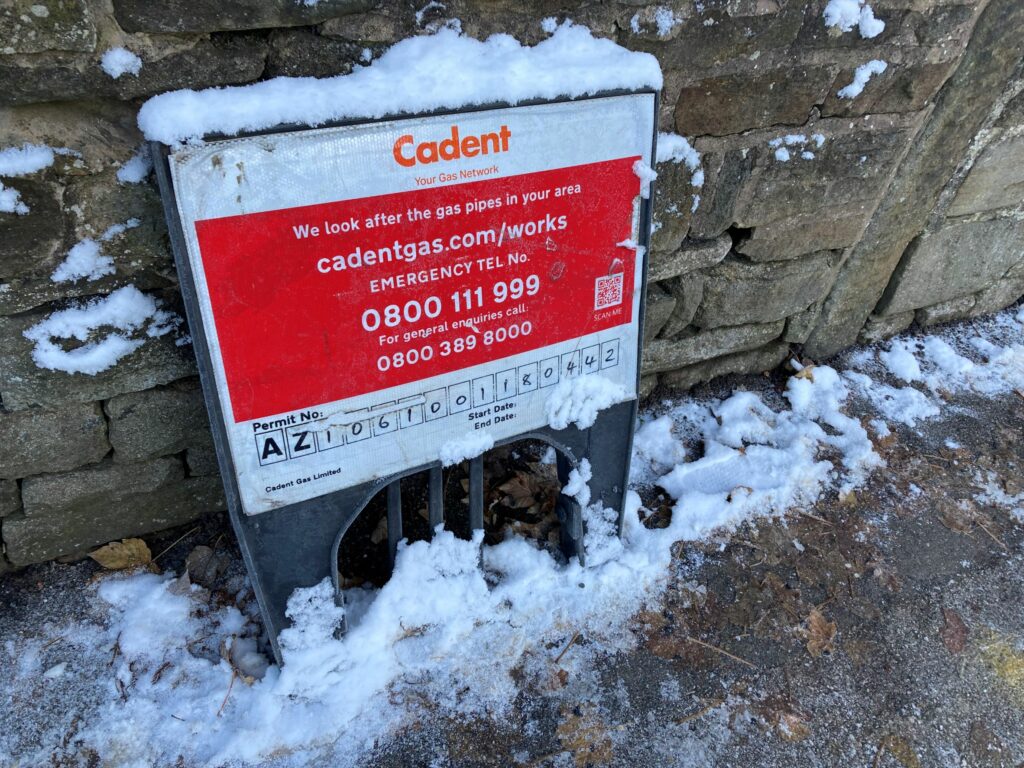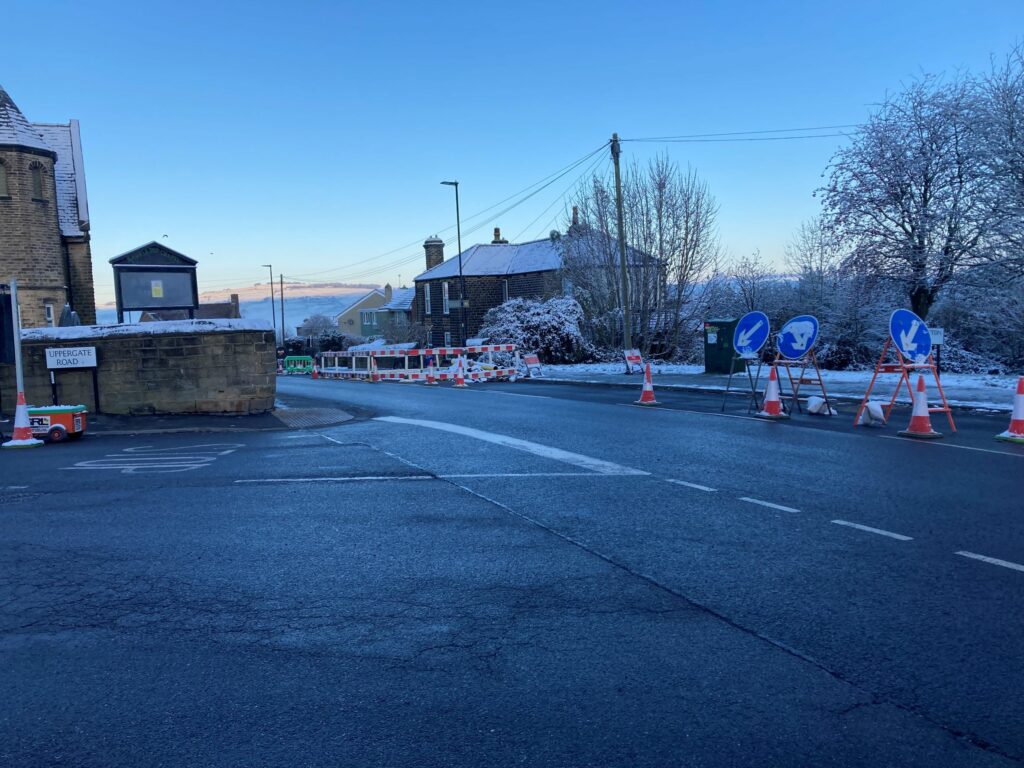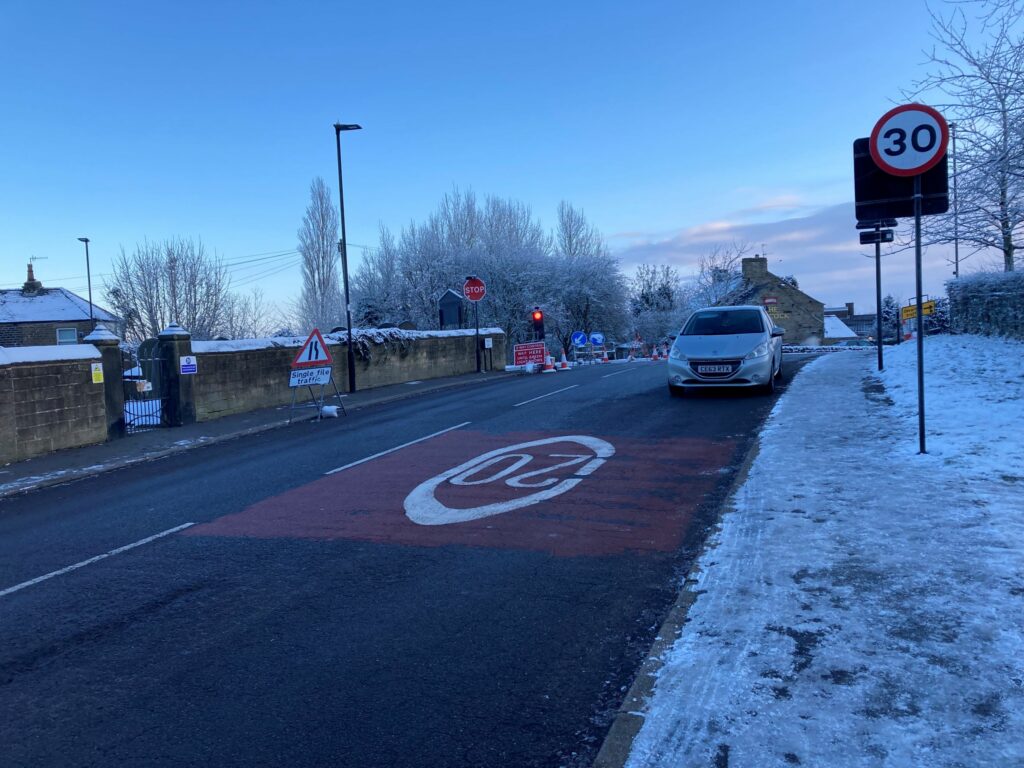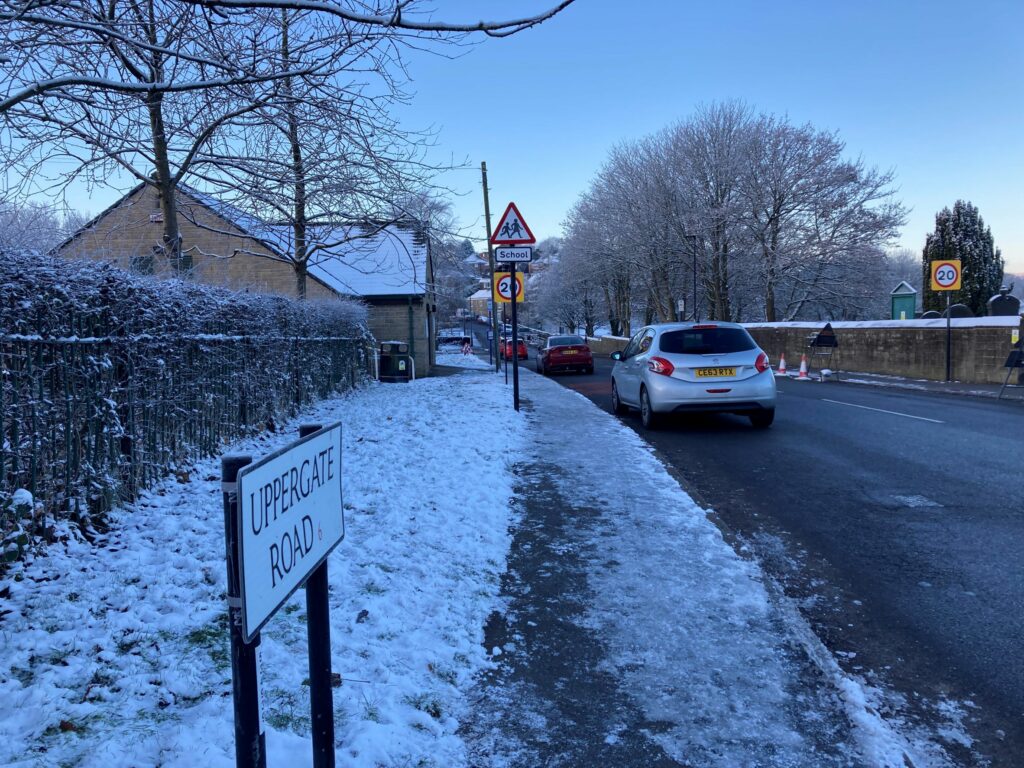 Bradfield Parish Council supports more book purchases at Stannington Library
Pat Chapman, treasurer of STAND, the charity that manages Stannington Library, attended Bradfield Parish Council's offices at the end of November to collect a £2,000 cheque from council chairman Cllr Vickie Priestley. These funds will be used to buy new books that will help keep the library's shelves fresh and up to date.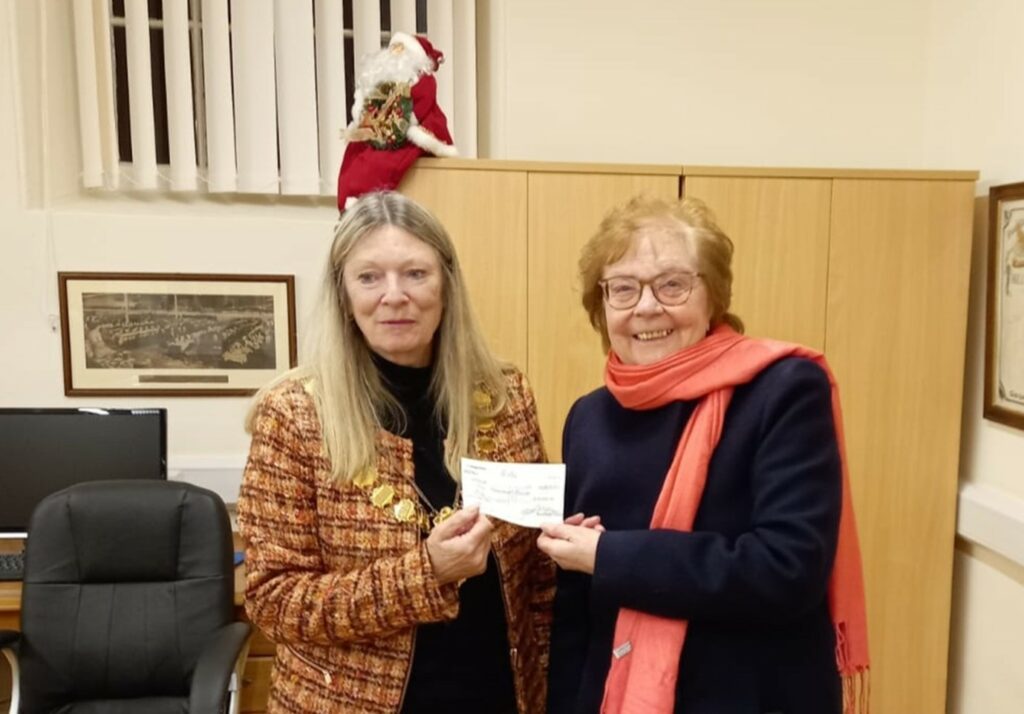 Bradfield Parish Council has supported the work of volunteers at Stannington Library since they first assumed responsibility for managing the facility in 2014. The relationship is an important one as Pat explains. "Donations such as this latest one from Bradfield Parish Council are a huge help in keeping Stannington Library open and serving our community in the way that we want it to."
"We still receive a large amount of support from Sheffield City Council, but not enough for us to be able to run the library in the way we know it ought to be run. A great deal of volunteer time is therefore spent on fund-raising, and significant donations such as this one gives us a real boost."
"Any library needs to keep adding new books to its shelves, titles from new authors and from old favourites as well, so that readers can always find something they want to read when they visit. This is especially true in our children's section which this grant will support."
Books added recently to Stannington's children's collection include Julia Donaldson's 'The Baddies', Diary of a Wimpy Kid 'Diper Overlode' and Jacqueline Wilson's 'Operation Fairy'. Click here to browse all the brand new Latest Additions to our Yellow Sticker Collection.
As well as a children's collection, the library also boasts wide and expanding crime, thriller and family saga sections, and a host of other books.
---
Stannington Library is on Uppergate in Stannington, immediately next to a bus stop served by routes 62 and 81. It is open on four days in the week – Monday 1.30-7.00 pm, Wednesday 10.00 am-12.30 pm and 1.30-6.00 pm, Friday 1.30-7.00 pm and Saturday 9.30 am012.30 pm.
Our Annual Story Festival is on October 1st 2022

Since 2015, and with the obvious exception of 2020, either late September or early October has seen Stannington Library volunteers deliver an event to mark the anniversary of volunteers assuming management responsibility for the library.
From the humblest of beginnings in 2015, the festival had built to a multi-day event in 2019, when the highlight was without doubt the spectacular music and fire-dance performance by Mister Fox. Those who saw it have still not forgotten it
After an enforced gap in 2020, the festival returned last year and celebrated Stonehenge, the Storrs Henge installation in the Stoneface Woodland Gallery and various cardboard-box structures on the theme Stannhenge.
"It was great to be back last year, even in such a small way," said volunteer Bob Mynors. "This year though we are able to up our game a little thanks to the financial support we are receiving every time one of our supporters buys from the Coop and scans a Coop membership card. And there is still time for people to choose STAND, the library management charity, to be the organisation that benefits from those purchases."
2022's event is receiving funding from the Coop's Local Community Fund, and its theme is 'trees' with stories selected specifically to reflect that theme. Performers at the event will include the ever-popular Carmel Page who is not yet revealing the stories she will perform, whilst Hallam89 Theatre Club, also experienced story festival hands, will bring their interpretation of the Roald Dahl classic Fantastic Mr Fox to the show
Other attractions on the day include The Sawheads, a folk trio featuring not one but two musical saws and, all the way from Wantley Wood, the mighty dragon Hal of Hallamshire, How appropriate these last two acts will be in a festival themed round trees remains to be seen, but organisers have every confidence.
The whole event starts at 1.00 pm on Saturday 1st October, and runs till 5.00 pm.
New IT Club at Hall Park Head Community Centre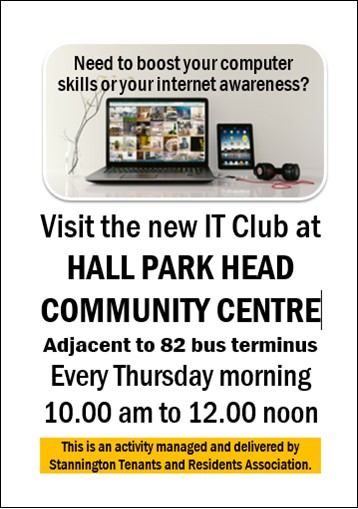 Stannington TARA (Tenants and Residents Association) have arranged for a new weekly IT club to help boost computer skills and internet awareness. The club will be held every Thursday morning in the Hall Park Head Community Centre - 10am to 12 noon.
Hall Park Head Community Centre is located adjacent to the 82 bus terminus.
If you have your own laptop computer or your own tablet, please bring it with you if you can.
This is an activity managed and delivered by Stannington Tenants and Residents Association.
Visit the TARA website: https://bit.ly/3TzSDPQ
Find the location of Hall Park Head Community here https://bit.ly/3B4R4lH
Summer Raffle 2022
Our grateful thanks to all who bought tickets! The winners have been contacted and their prizes are being delivered.
There are two fabulous hampers of goodies to win!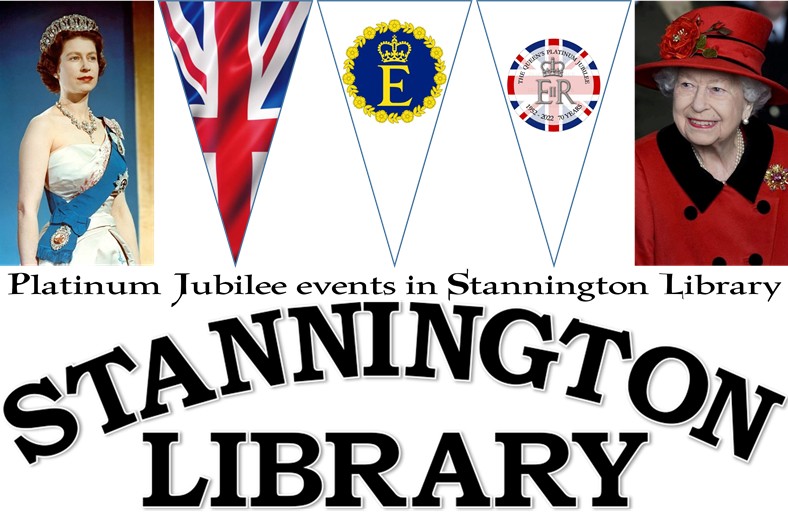 At Stannington Library, we will be celebrating Her Majesty the Queen's Platinum Jubilee with two events:
* Friday 3rd June - 1.30 pm till 3.00 pm – 10 years and under
Write a story, draw a picture, make a model and share it in the library. Collect a FREE Platinum Jubilee children's activity pack from Stannington Library next time you call in to see us. (Children must be accompanied by an adult.)
* Saturday 4th June - 2.00 pm to 4.00 pm –all ages
Join us to watch 'A QUEEN IS CROWNED', a feature-length film of the events of Coronation Day. Narrator: Sir Laurence Olivier Musical adviser: Sir Malcolm Sargent.
Admission is FREE at both events, but please, if you possibly can, collect tickets from the library so that we can know how many people we will be catering for – how much cake to provide. Refreshments will be provided.
All cash donations on the day will be gratefully received.
Sheffield Libraries is now fine free
Sheffield Libraries have announced that they will no longer charge fines for books brought back late. Read more here.
We are pleased to announce that Stannington Library will also no longer charge fines for books from their own collection being returned late. Please bring back any overdue books you have, fine free, so that others can enjoy reading them.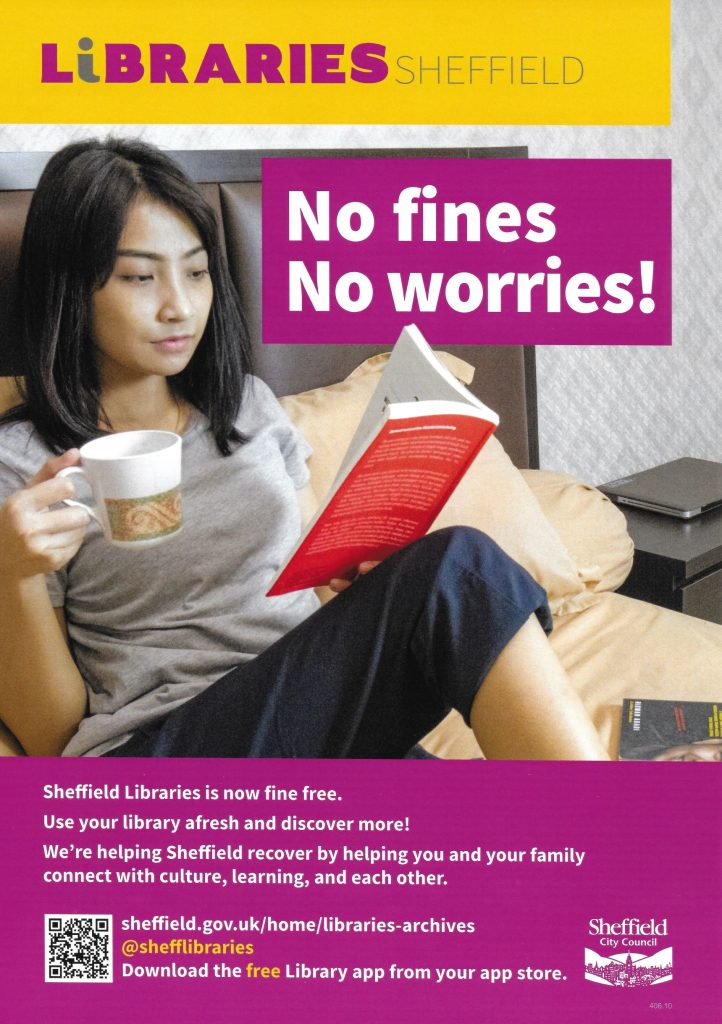 WINTER THREE - Nature Newsletter by Jan Flamank - February 22nd 2022
You can download a pdf version here
Stormy Weather!
I hope this finds you all well, and keeping both dry and upright in this very wild weather. It looks to be far more settled for when we meet again on March 1st.
What a week it has been, with 3 named storms following on so closely to each other. We think this is highly unusual, but when we look at recent meteorological records, this has happened before in February, alongside the warmest, wettest years recorded in the last 10 years. Climate change is here.
I thought it would be interesting to remind ourselves about the basis of clouds and windy weather. Forecasting has become a distinct science, but recognising some types of cloud can be both fun and useful, especially if venturing out on a spring walk or early picnic...
Firstly though, here is an image of a truly beautiful glass thermometer, made in Florence in the 17th Century, at the time of Galileo. The coloured glass balls within the tubes, which are full of water, rise and fall depending on the ambient temperature. I include it simply due to its beauty. We need more of that in life I reckon.
The naming of clouds
Aristotle devised a theory of 'atmospheric exhalations', but it was Luke Howard, a pharmacist and amateur meteorologist in 1802, who devised a simple classification system for clouds. The Latin names he chose are still used internationally today. He ordered them into 3 main families of cloud: Cirrus, meaning hair or fibre, Cumulus, meaning pile or heap, and Stratus, meaning layer or sheet. Constable painted a series of 100 cloud studies, all aided by his annotated copy of Howard's original classification of clouds.
A brief summary of the First International Cloud Atlas of 1896:
A. Upper Clouds, average altitude of 29,500ft: Cirrus and Cirro-stratus

B. Intermediate Clouds, average altitude of 9.840 to 23,000ft: Cirro- cumulus, Alto-cumulus and Alto-stratus

C. Lower Clouds, average altitude of 6,500ft: Strato-cumulus and Nimbus.
This has been augmented over time, so we now have 14 species and 9 variations within the 10 general cloud classifications, all still with Latin names. We don't need to remember them all, but they are wonderfully descriptive if you fancy taking a peek at them all on the Met Office website...
I will focus on the main clouds and conditions that bring us such wet weather.
The Jet Stream, as we have explored before, has a major influence on our weather. A band of enormously strong winds in the upper atmosphere, between the troposphere and stratosphere, they have a key role in the development and movement of low-pressure systems. The troposphere is where all our weather occurs as this layer contains the most water vapour.
The Jet Stream is usually at its most intense in winter, as these winds are generated by the huge temperature differences at high altitude, which causes very strong pressure gradients. Warm air has a higher pressure than cold air, so air flows from areas of high pressure to low pressure. The more contrast there is between the two areas of pressure, the greater the wind strength. You may well have seen graphics of the Jet Stream winds right over the UK during this very stormy weather. They can reach up to 200 miles an hour!
Cumulus Congesta clouds
Cumulus clouds are very common, white and fluffy and usually indicating good weather on bright days. Cumulus Congesta are the largest forms of cumulus clouds, with the main upward, convective cells still outlined with rounded tops. The image here shows how large these clouds can be, up to a mile or two high if there is enough warm, moist air to allow them to grow upwards. They can grow to enormous height if they are over the sea, as they still gain heat from the sea even after sunset. This image also shows they haven't started freezing at their highest point yet, after which they cease growing upwards and become cumulonimbus clouds, capable of producing torrential downpours.
Cumulonimbus Calvus and Cumulonimbus Capillatus
These massive clouds develop from the previous Congesta form. Calvus means bald, so it is the name given to the Congesta cloud as soon as it starts to lose the familiar 'cauliflower' top, and becomes smoother and more consolidated. They often have a typical anvil top, but all of them can turn into violent thunderstorms.
This is the most stormy phase, with C. Capillatus clouds producing torrential rain, squally showers, lightning and hail. Both of the cumulonimbus clouds contain very strong currents within them, with high water content. These are the clouds that all aircraft avoid, as they create powerful turbulence and the water can easily freeze in thick layers on the cold metal of the plane. Planes also take off and land into the wind, which is why they have such trouble landing in storms, where wind direction is both very strong and changeable.
Cumulonimbus clouds build up along a cold front. This is not the same as forgetting to put your thick jumper on, or not doing your coat up in winter....
A cold front occurs when cold polar air cuts in sharply beneath warmer, moist air that is rising. Winds along the front are gusty, and arranged in a clear edge called a squall line. Heavy rain will fall in many places along the cold front. Behind the front, the air gets colder and pressure rises, while powerful updraughts carry more moisture up so high it then turns to ice. The icy tops of the clouds are blown into a sharp wedge shape by the high-level winds. You can see this in the model of a cold front, shown in the picture below.
The storms can be very intense, but tend to be short lived, often leaving colder air behind, and some showers may still fall after the cold front has passed.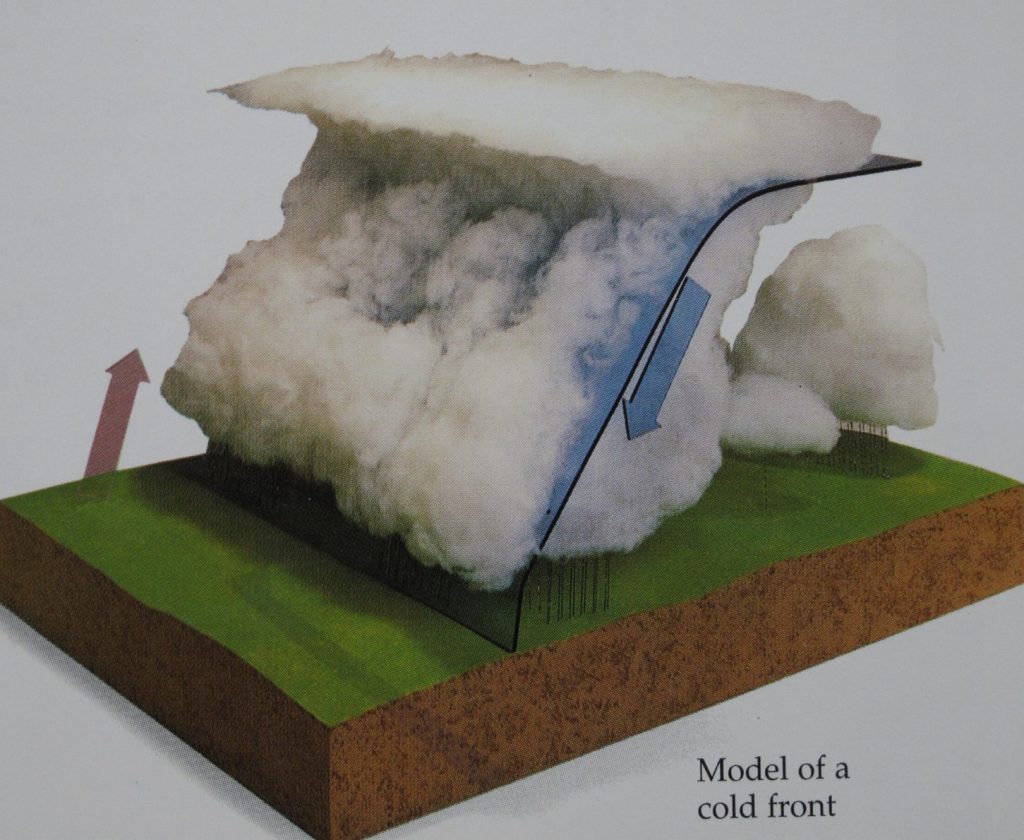 So, inching forward to the meteorological start of Spring, on the very day we meet next - March 1st (2.00 pm) - I will finish this last of these 3 winter nature newsletters with a fabulous photograph of a starling murmuration. Taken by Kathryn Cooper, it is a reminder that these storms are also hugely dangerous for wildlife, including this vast colony of small, fluttering starlings. Phew.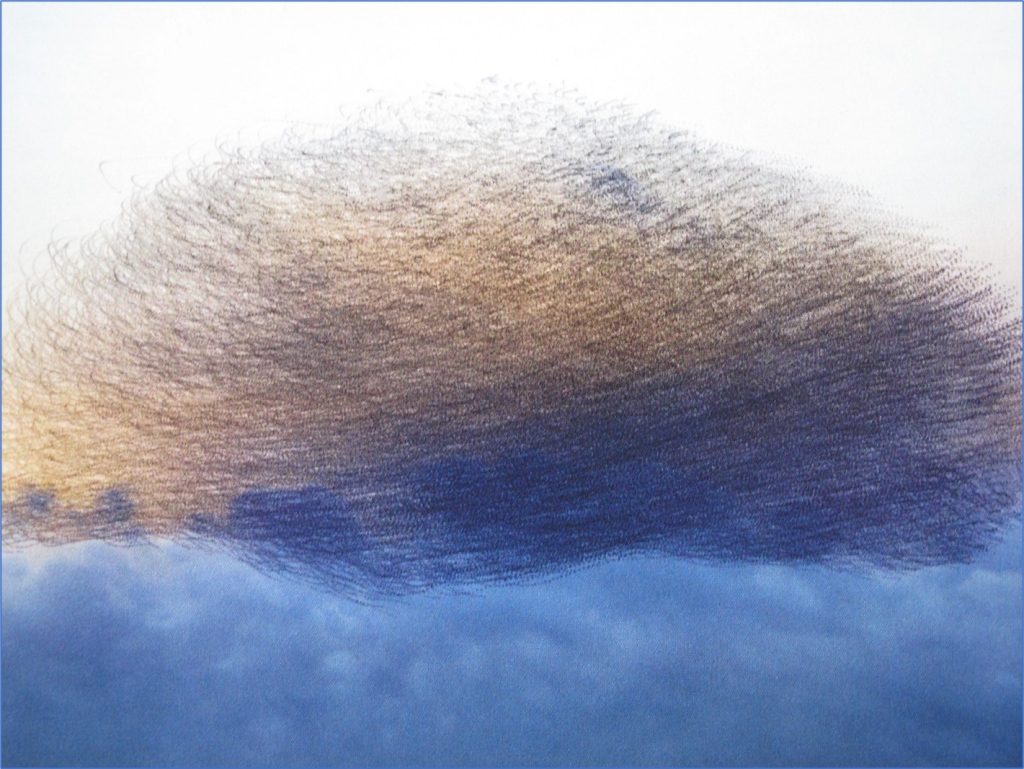 Take care and I am so looking forward to us all meeting up again. Yippee.
Warmest wishes,
Jan xxx