At Stannington Library, we will be celebrating Her Majesty the Queen's Platinum Jubilee with two events:
* Friday 3rd June - 1.30 pm till 3.00 pm – 10 years and under
Write a story, draw a picture, make a model and share it in the library. Collect a FREE Platinum Jubilee children's activity pack from Stannington Library next time you call in to see us. (Children must be accompanied by an adult.)
* Saturday 4th June - 2.00 pm to 4.00 pm –all ages
Join us to watch 'A QUEEN IS CROWNED', a feature-length film of the events of Coronation Day. Narrator: Sir Laurence Olivier Musical adviser: Sir Malcolm Sargent.
Admission is FREE at both events, but please, if you possibly can, collect tickets from the library so that we can know how many people we will be catering for – how much cake to provide. Refreshments will be provided.
All cash donations on the day will be gratefully received.
Sheffield Libraries is now fine free
Sheffield Libraries have announced that they will no longer charge fines for books brought back late. Read more here.
We are pleased to announce that Stannington Library will also no longer charge fines for books from their own collection being returned late. Please bring back any overdue books you have, fine free, so that others can enjoy reading them.
WINTER THREE - Nature Newsletter by Jan Flamank - February 22nd 2022
You can download a pdf version here
Stormy Weather!
I hope this finds you all well, and keeping both dry and upright in this very wild weather. It looks to be far more settled for when we meet again on March 1st.
What a week it has been, with 3 named storms following on so closely to each other. We think this is highly unusual, but when we look at recent meteorological records, this has happened before in February, alongside the warmest, wettest years recorded in the last 10 years. Climate change is here.
I thought it would be interesting to remind ourselves about the basis of clouds and windy weather. Forecasting has become a distinct science, but recognising some types of cloud can be both fun and useful, especially if venturing out on a spring walk or early picnic...
Firstly though, here is an image of a truly beautiful glass thermometer, made in Florence in the 17th Century, at the time of Galileo. The coloured glass balls within the tubes, which are full of water, rise and fall depending on the ambient temperature. I include it simply due to its beauty. We need more of that in life I reckon.
The naming of clouds
Aristotle devised a theory of 'atmospheric exhalations', but it was Luke Howard, a pharmacist and amateur meteorologist in 1802, who devised a simple classification system for clouds. The Latin names he chose are still used internationally today. He ordered them into 3 main families of cloud: Cirrus, meaning hair or fibre, Cumulus, meaning pile or heap, and Stratus, meaning layer or sheet. Constable painted a series of 100 cloud studies, all aided by his annotated copy of Howard's original classification of clouds.
A brief summary of the First International Cloud Atlas of 1896:
A. Upper Clouds, average altitude of 29,500ft: Cirrus and Cirro-stratus

B. Intermediate Clouds, average altitude of 9.840 to 23,000ft: Cirro- cumulus, Alto-cumulus and Alto-stratus

C. Lower Clouds, average altitude of 6,500ft: Strato-cumulus and Nimbus.
This has been augmented over time, so we now have 14 species and 9 variations within the 10 general cloud classifications, all still with Latin names. We don't need to remember them all, but they are wonderfully descriptive if you fancy taking a peek at them all on the Met Office website...
I will focus on the main clouds and conditions that bring us such wet weather.
The Jet Stream, as we have explored before, has a major influence on our weather. A band of enormously strong winds in the upper atmosphere, between the troposphere and stratosphere, they have a key role in the development and movement of low-pressure systems. The troposphere is where all our weather occurs as this layer contains the most water vapour.
The Jet Stream is usually at its most intense in winter, as these winds are generated by the huge temperature differences at high altitude, which causes very strong pressure gradients. Warm air has a higher pressure than cold air, so air flows from areas of high pressure to low pressure. The more contrast there is between the two areas of pressure, the greater the wind strength. You may well have seen graphics of the Jet Stream winds right over the UK during this very stormy weather. They can reach up to 200 miles an hour!
Cumulus Congesta clouds
Cumulus clouds are very common, white and fluffy and usually indicating good weather on bright days. Cumulus Congesta are the largest forms of cumulus clouds, with the main upward, convective cells still outlined with rounded tops. The image here shows how large these clouds can be, up to a mile or two high if there is enough warm, moist air to allow them to grow upwards. They can grow to enormous height if they are over the sea, as they still gain heat from the sea even after sunset. This image also shows they haven't started freezing at their highest point yet, after which they cease growing upwards and become cumulonimbus clouds, capable of producing torrential downpours.
Cumulonimbus Calvus and Cumulonimbus Capillatus
These massive clouds develop from the previous Congesta form. Calvus means bald, so it is the name given to the Congesta cloud as soon as it starts to lose the familiar 'cauliflower' top, and becomes smoother and more consolidated. They often have a typical anvil top, but all of them can turn into violent thunderstorms.
This is the most stormy phase, with C. Capillatus clouds producing torrential rain, squally showers, lightning and hail. Both of the cumulonimbus clouds contain very strong currents within them, with high water content. These are the clouds that all aircraft avoid, as they create powerful turbulence and the water can easily freeze in thick layers on the cold metal of the plane. Planes also take off and land into the wind, which is why they have such trouble landing in storms, where wind direction is both very strong and changeable.
Cumulonimbus clouds build up along a cold front. This is not the same as forgetting to put your thick jumper on, or not doing your coat up in winter....
A cold front occurs when cold polar air cuts in sharply beneath warmer, moist air that is rising. Winds along the front are gusty, and arranged in a clear edge called a squall line. Heavy rain will fall in many places along the cold front. Behind the front, the air gets colder and pressure rises, while powerful updraughts carry more moisture up so high it then turns to ice. The icy tops of the clouds are blown into a sharp wedge shape by the high-level winds. You can see this in the model of a cold front, shown in the picture below.
The storms can be very intense, but tend to be short lived, often leaving colder air behind, and some showers may still fall after the cold front has passed.
So, inching forward to the meteorological start of Spring, on the very day we meet next - March 1st (2.00 pm) - I will finish this last of these 3 winter nature newsletters with a fabulous photograph of a starling murmuration. Taken by Kathryn Cooper, it is a reminder that these storms are also hugely dangerous for wildlife, including this vast colony of small, fluttering starlings. Phew.
Take care and I am so looking forward to us all meeting up again. Yippee.
Warmest wishes,
Jan xxx
Library Update - March 1st 2022
We are relaxing some of our Covid precautions - in line with the latest Government regulations.
We are no longer quarantining returned library books - so please take your returned books to the counter for them to be taken off your library account immediately.
We are no longer separating the entrance and exit pathways in the foyer.
We will continue to ventilate the building to maximise good air flow.
We encourage library users to continue to wear a face covering unless exempt.
We encourage library users to continue to sanitise their hands before handling books.
We are a small indoor space, so may ask you to wait in the foyer if we become too crowded.
Thank you for helping us to keep your library safe for everyone.
WINTER TWO - Nature Newsletter by Jan Flamank - February 2022
You can download a pdf version here
I thought it would be a change to do a gentle picture quiz this time, much more as a prompt for us to think about familiar wildlife than a competition, but I will go through them with you quickly when we next get together. No marks, just a chance for us to enjoy all the images and put our thinking caps on...
---
Early Flowers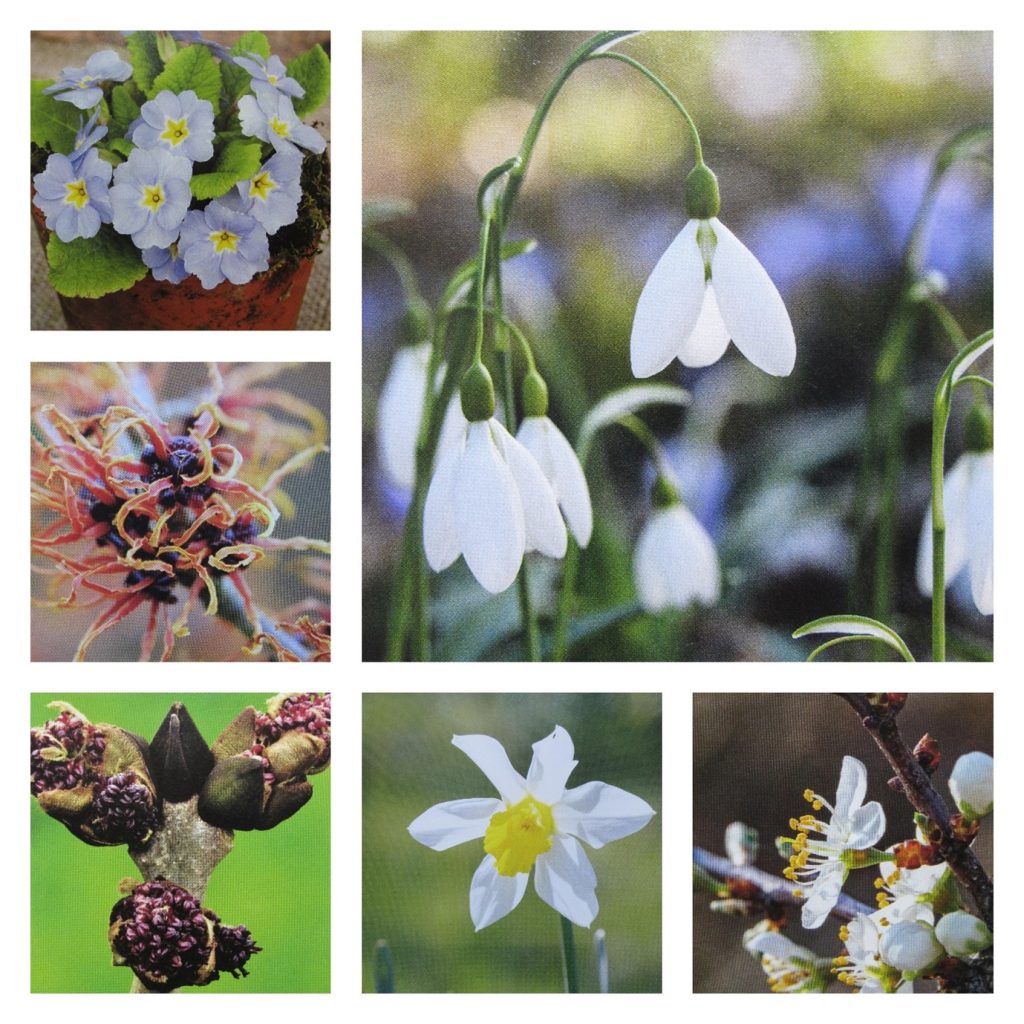 Can you name the flowers shown, and say which arrive first, and what conditions they like in order to thrive?
Which ones are native and where do the others come from?
Which flowers have scent and which are best for early pollinators?
Can you name 3 more flowers or shrubs that bloom in February?
---
Toads and frogs
How can you tell toads and frogs apart?
What type of spawn do they each lay, and where do they spend the winter months?
What type of pond suits them best, what other wildlife benefits from a pond, and where should we site one in our garden?
---
Woodpecker Family
Can you name the different woodpeckers in this image?
How do you tell male and females apart?
What type of trees do they like the most, and what adaptations do they have to protect them when they are 'drumming'?
What is their favourite food and how do they find it?
---
Birds and branches: spot the difference
Which birds are shown in two of the pictures and which family of birds do the two species belong to?
What characteristics do the two species have in common and what behaviour is being demonstrated in the picture?
What is the other image showing, on what type of tree, and what makes it occur?
---
Familiar and less easily seen birds
Can you name all the birds shown here, and say which are members of the same family?
How do you tell them apart?
Which is the most endangered and where do they all prefer to make their nest?
Which is the first bird to start building their nest?
What is the name and sequence of the elaborate courtship dance of the pair shown together?
---
Emerging mammals
Can you name all the lovely creatures shown here, and say what triggers each of them to become more active?
What is the largest mammal doing in the picture?
Which species hibernate and which overwinter and what factors influence why an animal needs to hibernate?
For each shown, what is their usual habitat and favourite food?
Which one is most endangered, and why?
---
I hope you can all have fun answering the questions for yourselves, or simply enjoy looking at the images of our native wildlife, whether commonly seen or a rare treat. We have fantastic wildlife to learn about together and cherish, even on our doorstep, which I feel makes a really positive impact on our daily lives.
I will write the last of this series of 3 winter newsletters towards the end of February, and really look forward to when we can all meet up again in Spring.
Take extra good care of yourselves until then and warmer weather, excellent company and cake beckon us onwards. Warmest wishes, Jan xx
Your New Sheffield Library App
Library Members can now access Sheffield Libraries anytime, anywhere.
You can use the app to:
browse and search our extensive collections of books, DVDs, CDs
manage your loans and place reservations for later collection
directly access our eLibrary to enjoy eBooks, eMagazines and eAudio
scan the ISBN barcode on any book to see if you can borrow or reserve the item
get library news and information including opening hours, locations, contact details, and links to our social media
book your place at a workshop or talk
access linked accounts, including your child's membership
Download the NEW Library app from your mobile phone app store.
FREE.

---
Installing the App
Scan the QR code above, or go to the Playstore, on Android devices, or the App Store, on iOS devices, and search for Sheffield Libraries. Install the app and open it - you should see the screen below.
Using the App
Search: Type in the name of a book or an author to search for books. When you select a book you can find out more information about it as well as seeing where copies of it are located in the city. Choose PLACE RESERVATION to have the book sent to your chosen Sheffield library. If you select PLACE RESERVATION you will be asked to sign in using your Library Number and PIN if you haven't already signed in. You will receive an email to tell you when your book is ready for collection.
Scan ISBN barcode: You can scan an ISBN barcode using this option. If the barcode reads successfully and the item is in stock the book will appear on your screen showing where copies of it are located in the city. Choose PLACE RESERVATION to have the book sent to your chosen Sheffield library. If you select PLACE RESERVATION you will be asked to sign in using your Library Number and PIN if you haven't already signed in. You will receive an email to tell you when your book is ready for collection.
Nearest Libraries: Your device will need to allow the app to access your location to use this feature. If this is allowed the app will display all the libraries, showing the nearest to your current location at the top. Select a library to see full address details, opening hours, phone number, website and directions.
My Account: Sign in using your Library Number and PIN. If you tick the box 'Keep me signed in' you won't need to to do this every time. Once logged in you can view loans, reservations and charges. There is an option to link another account, for example a child's account. You will need the Library Number and PIN of that account to do this. Once linked you can view the same information for that account.
NB: If you don't know your PIN you can request for it to be sent by email at https://www.sheffield.gov.uk/form/libraries-archives/library-pin , or you can call in to the library and ask them to look it up for you.

E-books and E-audio: Selecting this will take you to the OverDrive site where you can sign in to your Libby account. Select the drop-down menu (three short horizontal lines) at the top right of the screen and input your Library Number and Pin. If you are already signed into Libby you will get the option to open the app at the top of the screen.
Social: This link takes you to all the Sheffield Libraries social media
What's On: This link takes you to Sheffield Libraries Eventbrite site
February 9th 2022
Book Browsing Update
We still require library users to wear a face covering unless exempt.
We still require library users to sanitise their hands before handling books.
We still require library users to maintain social distancing.
We will continue to ventilate the building to maximise good air flow.
We will continue to monitor how many library users are inside the library and will ask you to wait in the foyer if we are too crowded.
Our second-hand Bargain Corner is open.
Our Public Computer is available for booking.
We intend to make more changes from 1st March 2022 if the situation is still improving. This will include allowing returned books to be taken to the counter to be removed from your account straight away.
We sincerely hope that by April 1st 2022 we will be able to move even closer to being 'back to normal but meanwhile we will also be ready to revert back to previous levels of restrictions should it become necessary.
Thank you for helping us to keep your library safe for everyone.
WINTER ONE - Nature Newsletter by Jan Flamank - January 2022
You can download a pdf version here
Winter Reds: Foxes, Robins and Earth's magnetic field
We are very familiar with foxes, and I see them regularly trotting round Heeley, mainly in the early mornings when I go to buy a newspaper. Foxes are active in the day, but are primarily nocturnal hunters. As the seasons and habitat change, they adapt their diet, but need about 60% of meat to thrive, especially in colder months.
Intelligent and beautiful mammals, they understand their prey, and have a range of fabulous adaptations to ensure they can survive.
They have vertical pupils, which open and close like curtains, to allow less light into the retina in daytime, then opening wide at night to let as much light in as possible.
They have a special layer of reflective cells behind their retina, called the tapetum lucidum. This acts like a mirror, reflecting light back into the eye, enhancing vision in low light. As with cats, who also have this, this causes their eyes to shine when illuminated at night by headlights etc. This was potentially one of the inspirations for the design of "cats' eyes" on our roads, by the inventor Percy Shaw, a Yorkshireman.
Foxes have excellent hearing, which augments their good close-range vision. Their long vision is not so good, so they can miss stationary prey, but their alert, upright ears are particularly sensitive to low frequency sounds; and each ear can rotate 150% to help them pinpoint the source of a sound.
They have sensory whiskers, called vibrissae, on both their face and legs, which allow a fox to 'feel' its way in the dark by detecting airflow. These whiskers attach to nerve cells that are highly sensitive, relaying information as they hunt at night. Foxes also have an acute sense of smell, which helps them to seek out prey even if it is buried beneath 3 feet of snow.
Although a member of Canidae, the dog family, foxes exhibit many feline characteristics. They share vertical pupils, good climbing skills, arching of their back when threatened, curling their tail around their body to keep warm, and the ability to fish out of ponds with their front paws. But most impressive of all is the 'mouse pounce'.
The 'mouse pounce' is an amazingly accurate and specialised strike to capture small, hidden rodents. Prey are located initially by sound and scent, then the fox freezes to pinpoint where the hidden prey is. It rears on its hind legs and launches itself into the air, usually at an angle of 40%. Steering mid-air with its tail, it then lands front feet first on the prey.
Some recent research has shown that they mostly pounce in a North East direction, and may be using the earth's magnetic field as a 'rangefinder' to accurately assess how far to jump to land on the hidden prey. If this is correct, it makes the fox unique in using the magnetic field to estimate distance, rather than direction, which is how migratory birds use it.
Let me explain a bit about our earth's magnetic field. We may all have encountered some people who have a 'magnetic personality', used magnets to attach wacky images to fridges, use compasses to find our way, use electricity to boil a kettle and turn lights on, or even got shocks from nylon sheets/carpets or jumpers – but our earth's magnetic field is something far more magnificent!
There are 4 main layers of our planet:
The Crust, where we live, is on average, 19 miles deep on land and approximately 3 miles deep at the bottom of the ocean.
The Mantle is the next layer down. It is a thick mixture of molten rock, about 1,800 miles deep.
The Outer Core is the next layer, consisting of molten iron and nickel. It is about 1 ,400 miles deep and is the liquid core of our planet.
The Inner Core is a solid sphere of iron and nickel metals, and is approximately 760 miles thick. It has about the same heat as the surface of the sun. So, very hot indeed!
The earth's magnetic field is powered by the cooling and subsequent solidification of the liquid core within our planet. The cooling and crystallisations within the liquid core cause movement of the liquid iron which surrounds the innermost, solid core at the very centre. This constantly churning movement within the liquid core causes very powerful electric currents, which are 1,000's of miles wide and flow at 1,000's of miles per hour as our earth rotates. These in turn generate a magnetic field around the currents.
This 'field' stretches far out into space, and acts as a shield against powerful solar winds, deflecting them away from earth. This protects our atmosphere from the damaging particles that would otherwise strip away the ozone layer and make us burn up from the sun's ultra violet radiation. The magnetic field, in our Northern Hemisphere, tilts downwards at an angle of 60 to 70% below the horizon. So, it slopes over the curved surface of our planet.
We are still discovering how birds may use the magnetic field to navigate migratory routes. Some birds, like the European Robin, have a special molecule in their retina, called the Cryptochrome, which acts like an internal compass to detect the direction of the magnetic field, aiding their correct flightpath over huge distances.
As a fox slinks quietly towards its prey, it uses acute hearing, and now possibly, a similar 'internal compass' to find the spot where the angle of the sound from the prey matches the angle/ slope of the magnetic field. At that precise point of a match, the fox will then know it is at a fixed distance to the hidden prey, so can accurate assess how far to jump to land on it! Incredible.
More research is needed, both for migratory birds and the fox, but if this latest research is confirmed, it means the fox is unique so far in using the magnetic field to estimate distance, rather than for direction, as birds do. Wow.
We learn all the time about the complexities and adaptations within the natural world, and knowing a bit more about it can only enhance our delight in it I reckon. And spur us all on to do whatever we can to protect it.
I hope you have enjoyed this first winter nature newsletter, and I will be writing two more.
Warmest wishes and keep cosy and well. Jan xxx
HALF-TERM ACTIVITY PACKS - FEBRUARY 2022
As always, Stannington Library will welcome all younger readers during the half-term break.
This year, to make the holiday more fun, we have created two half-term activity packs – one featuring Mister Men and Little Misses, the other featuring Gangsta Granny.
Whichever you pick, choose your favourite, finished craft activity, write your name and library card number on the back and bring it to Stannington Library. The best one we receive from each pack will win a prize. Entries should be handed in by Saturday 5th March 2022.
Good luck!
January 2022 Status Update
Covid case numbers in Stannington are rising rapidly, but for the moment library users can continue to come in and browse our shelves. We have a Risk Assessment in place that is designed to ensure that this service operates in a safe manner both for our library users and volunteers, and we are monitoring the situation closely.
We have screens to separate incoming and outgoing customers, a Track & Trace and hand sanitiser station, lots of signage to help you follow the one-way routes around the bookcases and our front desk area has a safety screen. We are managing the numbers allowed into the library, so that the space doesn't become overcrowded, as well as making sure that we have lots of windows open so that the library is well ventilated.
As we have only a small space, a limit of 3 adults or 1 small family group and 2 adults may currently enter to browse at the same time. We ask that you restrict your time in the library to 15 minutes, especially if there are others waiting to come in.
In line with the latest guidance, we require you to wear a face covering when you are in the library, and to maintain social distancing. Please continue to use the hand sanitiser before you handle books.
We have temporarily closed our Second-Hand Bargains Corner but hope to open it again in the near future.
We intend to keep our Public Computer available so you can call in or phone to book a session. The Public Computer is situated next to an open window, so please make sure you wear warm clothing.
Our Order & Collect service is still in operation if you would prefer not to browse our shelves.
Thanks for helping us to keep your library a safe place for everyone.