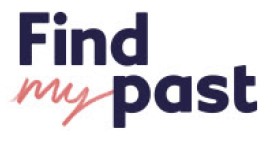 Stannington Library has a subscription to the Findmypast website that allows Library Users to view records for free. We have one Public Computer available for you to book currently - phone or call in to book a session. When you connect to findmypast.co.uk on that computer it will automatically log you into our account giving you full access to all records. See below for tips on how to save any information you find.
---
HOME ACCESS USING STANNINGTON LIBRARY'S SUBSCRIPTION
When we were closed to the public we arranged for you to access our subscription from your home. Although we are now open, we still only have one Public Computer available for you to use in the library, so we have arranged to continue offering access to our subscription from your home as well.
If you would like to use this free service from home, contact us by email, using the subject heading Findmypast, on library.stannington@gmail.com, stating YOUR NAME and your LIBRARY CARD NUMBER. Please also let us know how you found out about this service.
We will email a reply with the Username and Password, together with details of how you log on. (Please note that our emails are checked regularly and we will respond as soon as possible.)
Once all our Public Computers are available in the library, this home access facility will be discontinued.
---
What is Findmypast?
For those of you not familiar with Findmypast, it is a website designed to allow you to trace your ancestry by searching millions of records, mainly from the UK. That includes records of births, deaths and marriages as well as census records, military records, trade union records, baptism records, travel records, newspaper articles and much more. New records are being added all the time.
Findmypast will be one of the first websites where you can explore the 1921 census records when they become available in January 2022! The 21st March 2021 is a Census Day! All households will be required to fill in a census survey - either online or using the paper form.
You can register with Findmypast for free and this allows you to:
Create and save a Family Tree
Search all the records … but you will need to pay to view most of them.
Search and view free records - this includes the 1881 census and military records.
Use your free account to find records you would like to view, then use Stannington Library's subscription account to view the records!
NB: It is not possible to view actual certificates of birth, death or marriage on any of the family research websites, but you can get all the details needed to apply for copies from The General Register Office - https://www.gro.gov.uk/gro/content/certificates/login.asp
Findmypast has a links direct to the General Register Office. Copies of certificates ordered online currently cost from £7 for a pdf version and £11 for a paper copy. They are more expensive if you phone or write in for them, and even more if you ask for the express service.
Beware, copies of certificates ordered from some third party companies often cost much more than ordering direct from the General Register Office.
---
How to log on using the Stannington Library username and password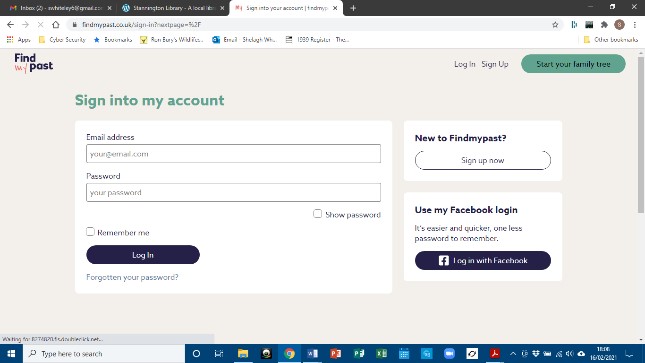 Type in the Username and Password that we have given you in our email.
This screen should appear: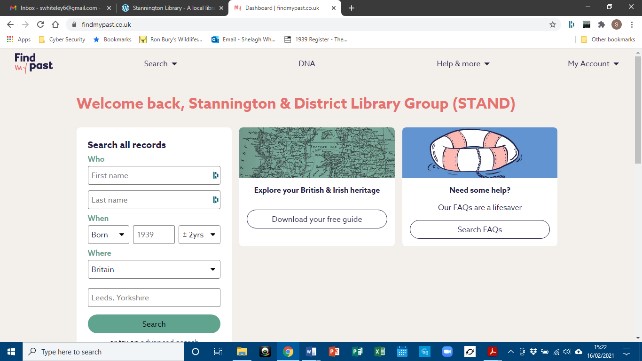 If you are new to using Findmypast, you should find the articles and videos in the Help & More drop down menu very useful.
It is very important to realise that when you log on with Stannington Library's Username and Password you are sharing that account with anyone else who is also logging on – it is not unique to you. The ability to save and make a family tree on this account has been disabled, as have some other features.
Findmypast have a Fair Usage Policy in place that sets a limit of 500 records per day and 5,000 records per month being viewed. Once this limit has been reached you will see this screen: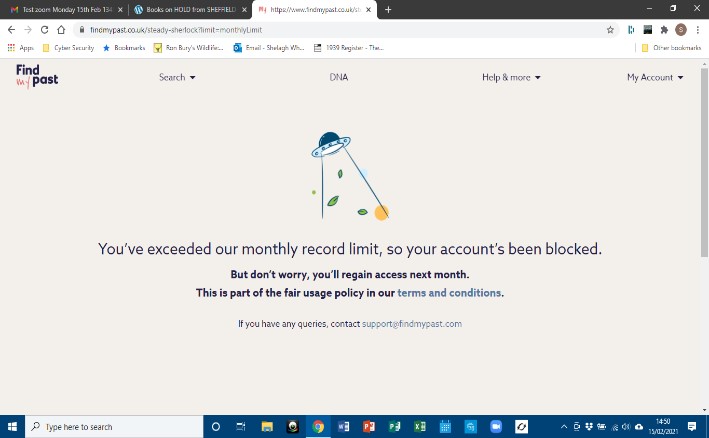 The website will reset the account once the time limit has expired, so there is no need to let anyone know.
We are not sure how popular this service will be and there is a chance that all the record allowances will be used up fairly quickly each month. If this happens, you can also apply to Sheffield Libraries, by emailing archives@Sheffield.gov.uk, as they may have a similar free subscription.
Other free websites are:
Similar websites where you have to pay to view records are:
---
What records are available?
Most records available in Findmypast are images of original documents or transcriptions of the original document.
Images of a record - the actual record for you to view. For example, in Births, Deaths & Marriages this will be an image of the register or index that contains the Birth, Death or Marriage. For census records, this is an image of the actual census record page – which can be hard to read. Other records may vary.
Transcriptions of a record – this is where the information has been typed out in an easy-to-read format. Beware, however, that these transcriptions can sometimes contain errors.
---
How to save records when using the Stannington Library account
You cannot save records to your Findmypast folder when logged into the Stannington Library account online, but you can:
Download to your computer, a memory stick or similar – images can usually be downloaded direct to your computer but transcriptions do not have that option.
Print records – both images and transcriptions can be printed if you have a printer.
Print – but choose Save as pdf – then choose a folder on your computer to save the file. This is a good way of saving transcriptions to a Windows computer and to an Apple Mac..
Print Screen – this option saves a copy of what is on the screen to the clipboard or photo gallery of your device.
Windows computers usually have a Print Screen button [prt sc, prt sc., PrtScn]. When you press this button it puts a copy of the computer screen into the clipboard of your computer. You then have to paste it into a suitable program, e.g. MSWord. (Once pasted it can be right-clicked and saved as an image if preferred.)

Apple Macs also have a Print Screen option - press Command + Shift + 3 to copy the whole screen into the clipboard. You then have to paste it into a suitable program.

For Apple iPads and iPhones, you click either the on/off button and the home button, or the on/off button and the volume button, depending on the version. This will take a copy of the screen and put the image in the photo gallery.

For Android devices, you can press and hold the power button to get a menu with the option of copying the screen, or press the power button and the volume-down button. Both should take a copy of the screen and put the image in the photo app.
Use Snip and Sketch (or the Snipping Tool) on Windows computers or the Screen Shot option on Apple Macs. These allow you to copy part of the screen into the clipboard of your computer.
On Windows computers, click the Windows logo + shift + s buttons to bring up the Snip & Sketch menu – or search for the Snipping Tool. That brings up a menu option where you can choose the shape you wish to copy from the screen - draw the shape and then choose whether to paste into another document or save directly as a photo file (jpg, png, gif). If you wish to, you can annotate the selection too.

On Apple Macs, press Command + Shift + 4. Drag the cross hair to select an area of the screen to capture. Take the Screen Shot and release the mouse. Click on the thumbnail that appears in the corner of the screen to edit and save.
---