Book Browsing at Stannington Library
We have been allowing library users to browse our shelves since Monday May 10th 2021. We have a Risk Assessment in place that is designed to ensure that this service operates in a safe manner both for our library users and volunteers.
We have screens to separate incoming and outgoing customers, a Track & Trace and hand sanitiser station, lots of signage to help you follow the one-way routes around the bookcases and our front desk area has a safety screen. We are still managing the numbers allowed into the library, so that the space doesn't become overcrowded, as well as making sure that we have lots of windows open so that the library is well ventilated.
From 1st September 2021, we still require you to wear a face covering when you are in the library, and to maintain social distancing. Please continue to use the hand sanitiser before you handle books.
Thanks for helping us to keep the library a safe place for everyone.
---
Stannington Library Book Browsing Guide
Do not enter the library if you have any Covid-19 symptoms.
Please wait outside in a socially distanced manner until there is no one waiting in the foyer.
In the foyer, please wear a mask (unless exempt), sanitise your hands and whilst you wait for a volunteer to check if it is OK for you to enter, please either scan our QR code or complete a Track & Trace form (date, name, contact details, time) and post it in the box provided. This data will be kept securely for 3 weeks, then destroyed.
As we are such a small indoor space, we will only allow 3 adults or small family groups inside the library at the same time.
We have one-way routes around the bookcases – please follow the arrows. Click the photo for a larger image in a new window.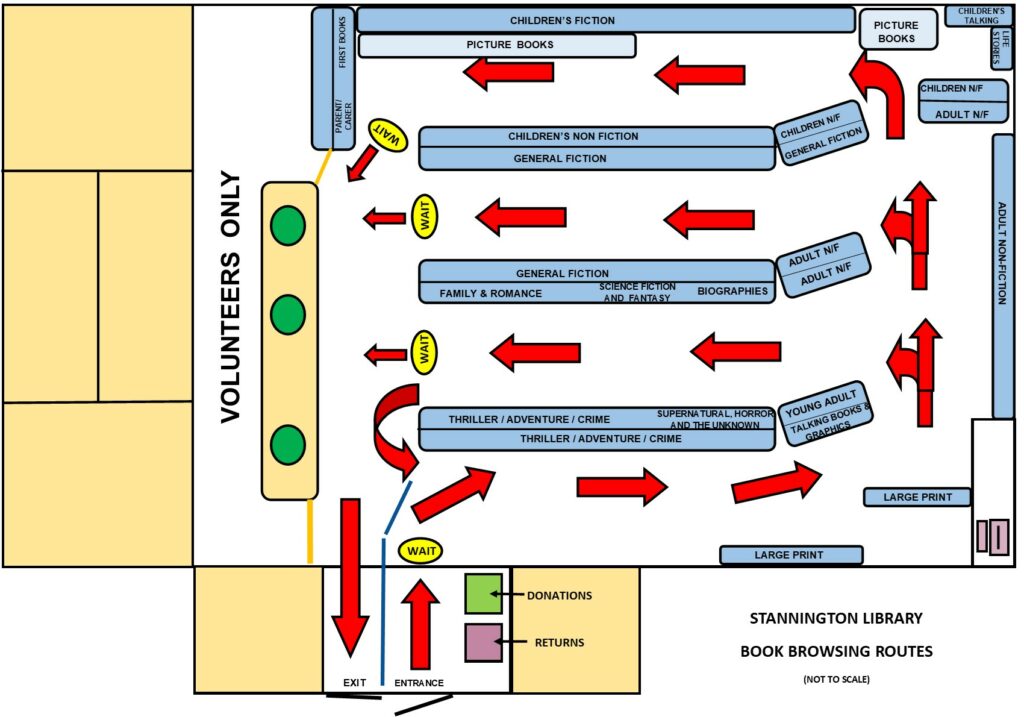 As you have sanitised hands and are wearing a mask, it is fine to look at books then put them back. When we are busy, we ask you to take no more than 15 minutes to choose the item/s you wish to borrow. When you are ready to check out your items, please wait to be called to a desk.
At the front desk we are still trying to minimise our handling of books, so please follow Volunteer instructions to help us check out your books safely. You may have your books stamped with a return date, or you may be given a slip advising how many books you have checked out and when the books will need to be returned – the loan period is 3 weeks. You can write this on the date sheet in the front of the book if you wish to.
Please leave the library using the right-hand door marked exit.
---
Holds from Sheffield Libraries and Order & Collect
Please locate your ordered items on the Holds Shelf - it's located just inside the main library - on the right-hand side, then take your items to the front desk to be checked out.
Book returns
Please place your returned items in the crate labelled 'Returns' in the foyer. They will be quarantined for 3 days before being removed from your account.
Number of books that can be borrowed
You can borrow up to 10 books for a 3 week period.
Children Over 12
Children aged over 12 will be allowed to browse for books without adult supervision. They will count as an adult for book browsing numbers.
Public Network
We have 1 Public Network computer available - call in or phone to make a booking.